Local Businesses + United Way
United Way helps you to add velocity to your Corporate Social Responsibility (CSR) strategies. When you partner with United Way, you create opportunities to engage your employees more deeply in their communities. You activate the process of permanent, positive change. And you connect your brand to a unique, trusted nonprofit that's enlisting millions to change the world.
More than 180 local businesses support United Way of the Mohawk Valley. With so many ways to make an impact, we can find the right fit for you and your business.
Ways to collaborate.
Workplace Campaign
Corporate Donation
Sponsorship
Volunteer Opportunities
In-kind Donation of Product or Service
Cause or Co-Branded Marketing
Become a partner.
United Way works with companies, governments, nonprofits, and other organizations to address complex challenges on a worldwide scale. Our partners contribute more than money. Their ideas, volunteer power, in-kind support, and more are helping build stronger communities.
Learn how you can be a part of helping thousands of our community members. Contact Carli Rightmier at CarliR@unitedwaymv.org.
93%
of employees want to work for a company that cares about them as an individual.
51%
won't work for a company that doesn't have strong social and environmental commitments.
74%
say their job is more fulfilling when they are provided opportunities to make a positive impact at work.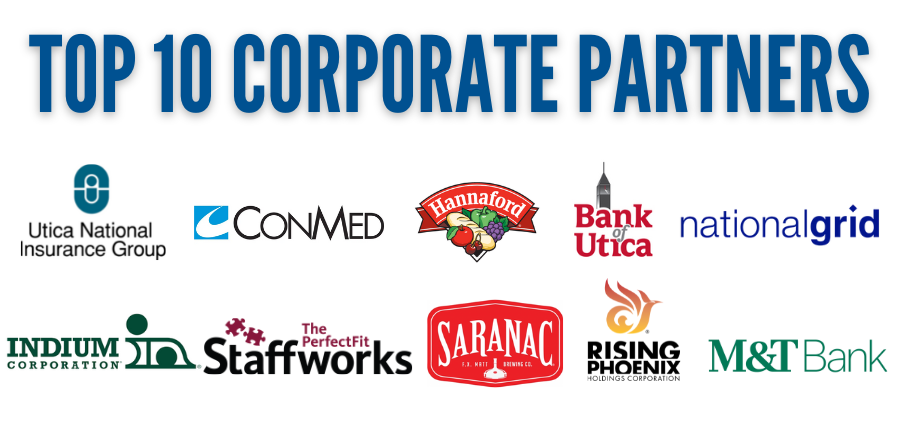 Workplace Campaign Partners
50 Forward Mohawk Valley
Adirondack Bank
AmeriCU
Anthem
ARC Herkimer
Assured Information Security
Bank of Utica
Berkshire Bank
BOCES – Herkimer Fulton Hamilton Otsego
BOCES Oneida – Herkimer – Madison County
Boilermaker Road Race, Inc
Bonadio & Company, LLP
Bushinger, Bucciero & Smith Agency
C&S Wholesale Grocers, Inc
Camden Central Schools
Catholic Charities of Herkimer County
Catholic Charities of Oneida/Madison Counties
Central Valley School District
Centro Of Oneida, Inc
City of Rome
City of Rome Fire Department
City of Rome Police Department
City of Utica
City of Utica Fire Department
City of Utica Police Department
Cliff's Local Market
CNY Veteran's Outreach Center Utica Center for Development
CONMED
Dermody Burke & Brown
ECR International
Eli Lilly Corporation
Empower Federal Credit Union
Empowered Pathways
Enterprise Holdings
Excellus BlueCross BlueShield
F.X. Matt Brewing Company
FedEx
First Source FCU
Frankfort-Schuyler Central School
Fitzgerald, DePietro & Wojnas
Fortus Group
Gilroy, Kernan & Gilroy
H.J. Brandeles Corp
Hannaford NATIONAL
Herkimer County Community College
Herkimer County Employees
Hospice & Palliative Care, Inc
Hubbard Tool & Die Corp
Human Technologies
Hummel's Office Plus
IBEW Local Union 43
IBM Corporation
Indium Corporation of America
International Paper Company
James R. Cook Labor Agency
Jay-K Independent Lumber Corp
Jervis Public Library
JPJ Electronic Communications, Inc
Legal Aid Society of Mid-New York, Inc
Lockheed Martin
M&T Bank
McCraith Beverages, Inc
McQuade & Bannigan, Inc
Mele Companies, Inc
Mohawk Valley Community Action Agency
Mohawk Valley Community College
Mohawk Valley Health System
Mosaic Health
Munson Williams Proctor & Arts Institute
MV Economic Development Growth Ent. Inc
MVP Health Care
National Grid
Nationwide Insurance
NBT Bank, N.A.
Neighborhood Center, Inc
New Hartford Central School District
Newport Telephone Company, Inc
Northland Communications
Northwestern Mutual
On Point for College, Inc
Oneida – Herkimer Solid Waste Authority
Oneida County Employees
Paige Marketing Communications Group
Pratt & Whitney HMI Metal Powders
Price Chopper
Principal Financial Group
Ramboll
Rising Phoenix Holdings Corporation
Robert W. Baird & Co. Incorporated
Rockford Auto Services, Inc
Saunders Kahler, LLP
Sauquoit Valley Central School
Scalzo, Zogby & Wittig
Smith Packing Co. Inc
Special Metals
Stone Age Landscaping, LLC
Strategic Financial Services, Inc
Sturges Manufacturing Company
The Center
The Fountainhead Group, Inc
The Hartford
The Matt Law Firm, PLLC
Thea Bowman House, Inc
Tops Friendly Market #586 – Camden
Tops Friendly Market #598 - Boonville
United Way of the Mohawk Valley
Utica Academy of Science Charter School
Utica City School District 
Utica District Telephone EFCU
Utica First Insurance Company
Utica Gas & Electric EFCU
Utica Municipal Housing Authority
Utica National Insurance Group
Utica University
Whitcraft
Whitesboro Central School District
Youth & Family Center of the MV (YMCA of the MV)